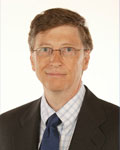 Hello, I'm Bill Gates, I'm a cofounder of one of the most recognized brand – Microsoft. There is my autobiography.
I was born and grew up in Seattle, Washington USA. My father, William H. Gates II was a Seattle attorney and my mother, Mary Maxwell Gates was a school teacher and chairperson of the United Way charity. My two sisters and I had a comfortable upbringing. We enjoyed a normal, active childhood and participated in sports, joined the Cub Scouts, and spent every summer with our family in Bremerton, Washington. Although, my parents had a law career in mind for me, I developed an early interest in computer science and began studying computers in the seventh grade at Seattle's Lakeside School. Lakeside was a private school chosen by my parents in hopes that it would be more challenging for my intellectual drive and curiosity. At Lakeside, I came to know Paul Allen, a classmate with similar interests in technology.
I wrote a fascinating admission essay and applied to Harvard University. In 1973 I was accepted and started studying where I spent time with Paul Allen. We worked on a version of the programming language BASIC that was the basis for the MITS Altair. I quitted Harvard in 1975, ending my academic life and beginning my career as a software designer. At this time, Allen and I cofounded Microsoft. In 1980 I developed the Microsoft Disk Operating System, or MS-DOS.
By the early 1990s Microsoft had sold more than one hundred million copies of MS-DOS, making the operating system the all-time leader in software sales. For my achievements in science and technology, I received the Howard Vollum Award in 1984 from Reed College in Portland, Oregon.
I married Melinda French on January 1, 1994. We have three children, Jennifer Katharine Gates (1996), Rory John Gates (1999) and Phoebe Adele Gates (2002).
By 1997 my worth was estimated at approximately $37 billion, earning me the title of "the richest man in America."
In November 1998 my wife and I gave the largest single gift to a U.S. public library, we donated $20 million to the Seattle Public Library. Another of our charitable donations was $20 million given to the Massachusetts Institute of Technology to build a new home for its Laboratory of Computer Science.
From 2000 to 2006, I served as the Chief Software Architect and Chairman of Microsoft. It was only in 2006 that I announced that I will stop handling day-to-day operations of Microsoft by July 2008 and will remain only as the Chairman of Microsoft.
In March 2005 I received a "honorary" knighthood from the queen of England. I was bestowed with the KBE Order (Knight Commander of the Most Excellent Order of the British Empire) for my services in reducing poverty and improving health in the developing countries of the world.
Now I live near Lake Washington with my wife Melinda French Gates and our three children. Interests of mine include reading, golf and playing bridge…
---
The autobiography on this page is made up as the sample. It is not the actual autobiography of the character given. The sample is made up based on the publically available facts about the celebrity chosen. The site administration holds no responsibility over the level of autobiography's match to the actual celebrity's life. The autobiography may be used just as the sample, and may not be used as the source of facts about the celebtrity given.