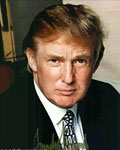 Hello, my name's Donald John Trump and I want to present you my autobiography essay.
I was born in 1946 in Queens, New York City, I was the fourth of five children of Frederick and Mary MacLeod Trump. My father was a builder and real estate developer who specialized in constructing and operating middle income apartments in the Queens, Staten Island, and Brooklyn sections of New York.
As I was an energetic and bright child, my parents sent me to the New York Military Academy at age of thirteen, hoping the discipline of the school would channel my energy in a positive manner. I did well at the academy, both socially and academically, rising to be a star athlete and student leader by the time I graduated in 1964.
During summers I worked for my father's company at the construction sites. I passed successfully the admission essay and entered Fordham University, then transferred to the Wharton School of Finance at the University of Pennsylvania.  I graduated in 1968 with a degree in economics. After graduating college, I joined the family business, the Trump Organization. I worked with my father for five years and was quite successful in making profitable deals. My father commented on my business success by stating that "everything he seems to touch turns to gold".
In 1971 I moved to Manhattan, where I became familiar with many influential people. Convinced of the economic opportunity in the city, I became involved in large building projects in Manhattan that would offer opportunities for earning high profits, utilizing attractive architectural design, and winning public recognition.
I went on to acquire some of the most exclusive properties in the city. Trump Casino, Trump International Hotel, Trump Marina Hotel and Casino, Trump Taj Mahal Casino Resort and Trump Tower are among my prestigious portfolio of real estate properties. In addition, I am also a partner in the ownership and broadcast rights for three largest beauty competitions in the world, the Miss Universe, Miss USA, and Miss Teen USA Pageants. I am also an accomplished author of five books, including my autobiography, "The Art of Deal." Aside from my autobiography, my bestsellers include "Surviving at the Top," "The Art of the Comeback" and "How To Get Rich: Big Deals from the Star of The Apprentice."
In 1974 I obtained an option on one of the Penn Central's hotels, the Commodore, which was unprofitable but in an excellent location near Grand Central Station. The next year I signed a partnership agreement with the Hyatt Hotel Corporation, which did not have a large downtown hotel. Renamed the Grand Hyatt, the hotel was popular and an economic success, making me the city's best known and most controversial developer.
I was married to Ivana Zelnickova in 1977, and we had three children together, Donald Jr., Ivanka and Eric.
In 1979 I rented a site on Fifth Avenue next to the famous Tiffany & Company as the location for a monumental $200 million apartment-retail complex designed by Der Scutt. It was named Trump Tower when it opened in 1982. The fifty-eight-story building featured a six-story courtyard lined with pink marble and included an eighty-foot waterfall. The luxurious building attracted well-known retail stores and celebrity renters and brought me national attention.
Meanwhile I was investigating the profitable casino gambling business, which was approved in New Jersey in 1977. In 1980 I was able to acquire a piece of property in Atlantic City, New Jersey. And the $250 million complex opened in 1982 as Harrah's at Trump Plaza. I bought out Holiday Inns in 1986 and renamed the facility Trump Plaza Hotel and Casino. I also purchased a Hilton Hotels casino-hotel in Atlantic City when the corporation failed to obtain a gambling license and renamed $320 million complex Trump's Castle. Later, while it was under construction, I was able to acquire the largest hotel-casino in the world, the Taj Mahal at Atlantic City, which opened in 1990.
In 1992 Ivana and I divorced, and a year later, I married Marla Maples, who mothered my fourth child, Tiffany. We divorced in 1999. Six years later, I married Melania Knauss, who mothered my fifth child, Barron William.
In 2003, I became the executive producer and host of the NBC's The Apprentice, where I challenged contestants to show off their management and sales skills as they battle for high-level position in one of my many businesses.
In 2005 I started the Trump University that teaches business students online. The courses available are focused on real estate investing, being a successful entrepreneur, business management, and career success.
When the New Jersey Meadowlands golf and housing development fell through in November 2007, I stepped in as a 50-50 partner develop the land.
Now I continue investing money in different projects and try to control with my large empire…
---
The autobiography on this page is made up as the sample. It is not the actual autobiography of the character given. The sample is made up based on the publically available facts about the celebrity chosen. The site administration holds no responsibility over the level of autobiography's match to the actual celebrity's life. The autobiography may be used just as the sample, and may not be used as the source of facts about the celebtrity given.