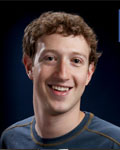 Hello, my name is Mark Elliot Zuckerberg. I'm a businessman, co-founder of Facebook. I want to present you my autobiography essay.
I was born on May 14, 1984, in Dobbs Ferry, New York, where I grew up. I was the second child and the only son in an intelligent family of dentist and psychiatrist.
In 1996 my parents bought my first computer and I devoted myself to him. I started programming. My father taught me Atari Basic Programming. In three years I made a computer version of the famous table game "Risk". I enjoyed developing computer programs, especially communication tools and games.
My admission essay was reviewed and accepted in Ardsley High School, New York. I was an excellent pupil. That's why I was transferred to Phillips Exeter Academy, where I immersed myself in Latin. Also I learned French, Hebrew, and ancient Greek. In Academy I won some prizes in science (math, astronomy and physics).
During my high school years, I built a music player, which took a rating 3 of 5 by PC Magazine. Microsoft tried to buy it for about 2 millions dollars, but I didn't sell it. I considered it was only inspiration. After that in September 2002 I went to Harvard College, where I studied computer science. Some of my fellow students sought me out to work on a social networking site called Harvard Connection. But University Administration refused my idea to create a site with student's photos. So, I cracked University student base and placed all student's photos on the website. In hour there were about five hundred visitors. But after administration had known about it, website was closed and I had big problems. Nevertheless, all the students kept up me and website, so it was opened again. It was the beginning of Facebook creation…
I co-founded Facebook with Dustin Moskovitz, Chris Hughes, and Eduardo Saverin.  The site allowed users post profiles and photos and communicate with other users. On June 2004 I left the college to devote myself to Facebook for full time, moving the company to Palo Alto, California. By the end of 2004, Facebook had a million users.In 2005, my enterprise got a huge boost from the venture capital firm Accel Partners. Accel invested $12.7 million into the college-only network. Adding high school and international schools, Facebook had more than 5.5 million users in December 2005. I turned down offers from Yahoo! and MTV Networks to sell it. On May 24, 2007, our team announced Facebook Platform, a development platform for programmers to create social applications within Facebook.
But the most significant turning point for Facebook.com was remarked on 24th October 2007 when Bill Gate's company Microsoft Corporation decided to invest in Facebook and thus purchased 1.6 % of its share for $240 million. By the beginning of 2008  I had more than 1.5 billion.
In 2010, the story of Facebook served as the central plot to the feature film The Social Network.
There are more than 500 million users on Facebook today.
So, that's all for today and, of course, this essay on my achievement will be continued…
---
The autobiography on this page is made up as the sample. It is not the actual autobiography of the character given. The sample is made up based on the publically available facts about the celebrity chosen. The site administration holds no responsibility over the level of autobiography's match to the actual celebrity's life. The autobiography may be used just as the sample, and may not be used as the source of facts about the celebtrity given.