There are two main components to think about when it comes to succeeding in multiple-choice examinations. Firstly, you've got to consider that there's a strategy as well as a certain logic that ought to be employed to work out the right answer even when you're not quite sure of it. More importantly, however, you should be looking at example questions to learn more about the sorts of interesting business topics you're going to be asked. Have a look at the most common Islamic banking MCQ content and you'll be well on your way to success.
The Most Common Areas of Examination
Even though it's a vast topic, there is still a limited number of points which can be addressed in Islamic finance MCQ exams. You'll soon notice that even in the most frequently asked questions about Islamic banking outlined here, there are certain topics that arise time and time again.
Restrictions and tiers within the Islamic model of profit sharing and loss bearing.
The principles of safekeeping as it applies to Sharia-compliant financing.
The nature of joint ventures according to Islamic law, including permanent versions and diminishing partnerships.
The cost-plus model and how it is viewed by various Islamic scholars.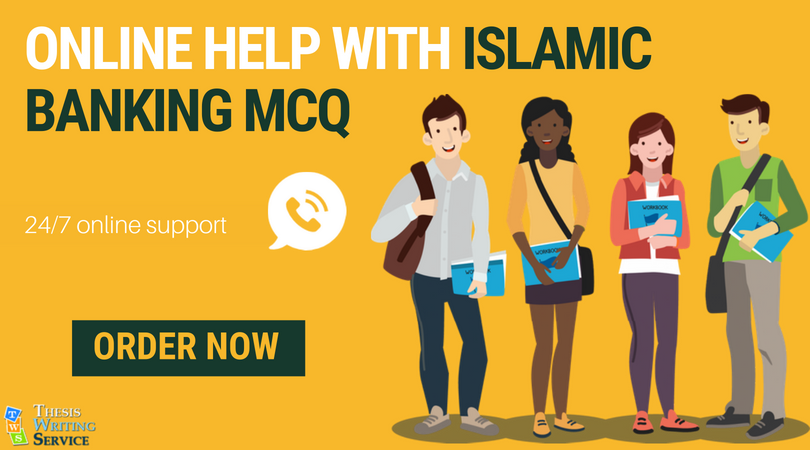 How to Check Your Knowledge in Islamic Banking and Finance
Multiple choice questions or MCQs are the best possible way of testing the knowledge of students about a given topic. An MCQ basically is a statement or a question with multiple options given as answers. The student has to select the one answer among a few variants. The number of options usually is 4 or 5. In this way, one can quickly examine whether or not the person has good knowledge of Islamic banking and finance topic.
What Islamic Banking and Finance MCQs You Can Face
When formulating MCQs, the first thing you need to do is answer yourself is what are you testing in students? In the case of Islamic banking and finance, you should know whether the students have the background knowledge of the topic or do they only have that much information which is given in their textbooks. Formulate the questions accordingly. Once you have identified the purpose of your Islamic banking and finance multiple choice questions, you need to create distractions. Distractions can be created by giving students in options, answers near to the correct answer. This would help you in guessing how well the student has understood the topic. You also need to give feedback to your right options so as to claim that why they are actually right. In Islamic banking and finance, one can formulate many questions by mixing the concepts of Islamic customs and the methods of banking followed by the West. Only those students, which understand the "core concepts" of the topic, would be able to give the right answer.
How MCQs Test Your Knowledge in Islamic Banking and Finance
While making multiple choice questions make sure you indulge students in thinking analytically before answering the questions. This would make students learn about the topic using their own brains rather than remembering it. MCQs can either test the knowledge on a given topic, the comprehensive ability of students or how well students apply their learned knowledge about a topic. Islamic banking MCQs should try create synthesis i.e. create new perspectives and connections in the minds of the students.

The Top Frequently Asked Questions About Islamic Banking
When you know what to expect from Islamic banking and finance exam questions thanks to Islamic finance MCQ examples, you won't even break a sweat while writing in the examination hall. Check out the Islamic banking and finance exam questions here and see how many match up with those on all the past papers you should be looking at.
Which banking action is most consistent with the application of the principles of Sharia?
When were most Islamic banks formed?
How would a bank operating as a trustee of money be defined?
The concept of two parties negotiating a selling price is known as what?
What is the partnership model that allows one party to provide funding while the other provides expertise?
Which of the below financing models is deemed to be asset side?
On which basis is an investor's share given to a customer on lease?
How is an agreement to provide an advance fee for commodities defined?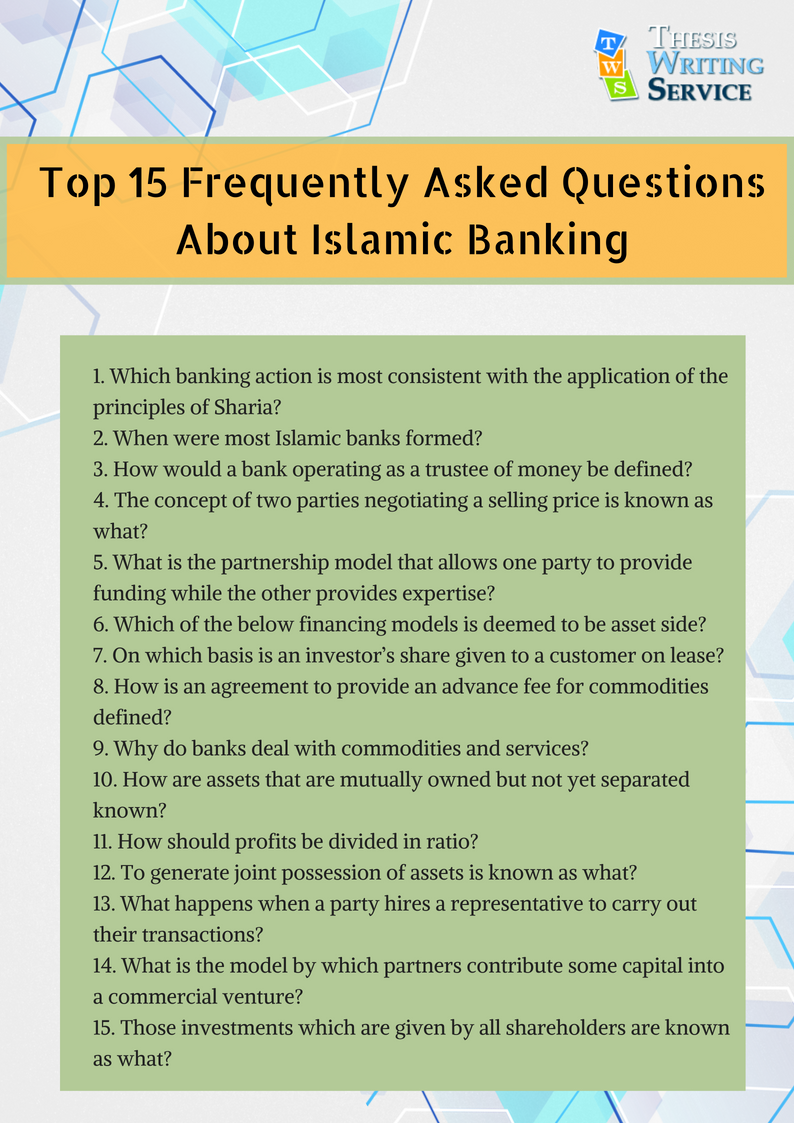 Perfect Preparation Every Time
Use all the latest Islamic banking MCQ content to discover the most commonly asked questions and the most likely topics you'll need to study for your examinations. If you want to pass even the toughest tests the first time, all you need to do is spot the patterns in past exam papers, and you'll be good to go. Get in touch with one of our professional thesis writers and find out more about how anyone can achieve academic success with the right support.
Take advantage of the best-written Islamic banking MCQ content. Prepare to score higher grades than you could ever have imagined!